Good reception of the ONADEK modular recoverable slab formwork at Bauma Conexpo India
ULMA has been present at the international trade fair Bauma Conexpo India, 2023 making a very positive valuation in terms of the number and quality of the visits received at the stand.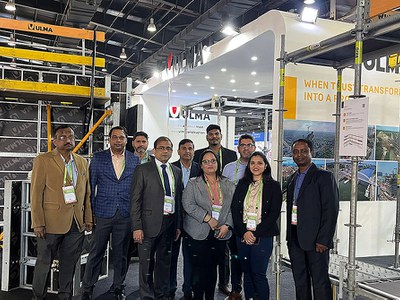 The international trade fair for construction and mining machinery held in Greater Noida, located near the national capital of India, New Delhi, closed its edition with a participation of 601 exhibitors from 26 countries and more than 41,000 visitors from 83 different nationalities. An unbeatable showcase for sharing knowledge and experience among professionals in a sector that is expected to provide opportunities for growth in the coming years.
Among the products exhibited at ULMA's booth, visitors could get a closer look at the aluminum modular formwork CC-4, the vertical panel formwork LGW, our temporary accesses based on our ringlock scaffolding BRIO, our shoring system BRIO and our frame shoring tower T-60. However, the exclusive presentation of our recoverable modular formwork ONADEK in the Indian market was undoubtedly the event that caused the greatest excitement among visitors. Presented at Bauma India as the innovative formwork that marks a new era in slab formwork, visitors were able to see in situ the advantages offered by this system that combines all the advantages of modular and flexible drophead systems, providing remarkable reductions in assembly and dismantling times with high standards of safety and ergonomics for the worker.
Another initiative of ULMA's subsidiary in India that was very well received by visitors was to bring ULMA's formwork, shoring and scaffolding production center closer to the exhibition, inviting them to learn about the manufacturing process without leaving the stand thanks to virtual reality technology.
In short, a meeting that has served to create, maintain and strengthen the bonds of trust with customers and partners of ULMA's subsidiary in India. To all our  valued visitors of BC India 2023, Mr. Surajit Ray, Managing Director of ULMA in India and his team pledged to partner from the beginning of their projects to provide the right formwork technology and efficient system to achieve quality, speed and safety throughout their construction process.