Full performance self-climbing systems
One of the highest skyscrapers in Poland, the Q22 tower is rising in the centre of the Polish capital. At 155 m high, this office building will have 47 floors, 5 of which will be underground.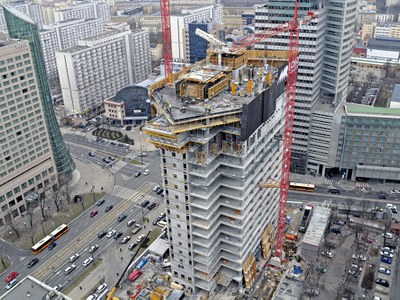 ULMA has implemented a wide range of formwork and scaffolding, amongst which self-climbing systems are especially significant.
ULMA started work in July 2014, and the project will be finished in little over 20 months.
Guaranteed security
Worker protection from falls and inclement weather is a priority in such projects. The building perimeter has been covered using 42 protective screens.
The HWS system has proved its ability to easily adapt to customer and building needs:
In addition to the standard configuration,

platforms for the deposit and lifting of material

have been created

Telescopic panels

by means of a system using heads whose axles can adapt to slabs of variable geometry

Inclined protective screens

to adapt to the façade geometry

Wind protection screen

to ensure safe transit among 5 levels with

BRIO ladder
Integrated bottom platforms

for tightening the slabs