ATR, RKS and HWS systems key in the construction of 6 towers in Gibraltar
HCT Gibraltar is a project with 665 state-subsidised properties developed and promoted by the Government of Gibraltar, the largest residential construction underway now and in the years to come.
The project of Hassan Centenary Terraces has 6 high-rise towers and it is being constructed in two phases: phase one is for towers 4, 5 and 6 and phase two is for towers 1, 2 and 3. Tower 4 is the tallest one and it has 35 floors, while towers 5 and 6 vary in geometry and height, with 26 floors.
We worked shoulder to shoulder with the customer right from the start of the project.
As well as being in an area that is exposed to the wind, the crane had to be available at all times. Therefore, the ATR self-climbing systems, RKS and HWS perimeter safety screens played a vital role throughout the process, with weekly cycles for each floor.
The variable-thickness slabs had transition areas. The CC-4 aluminium formwork and EP prop were used with ENKOFORM and BRIO shoring and, in split level areas, braced ALUPROP towers were used.
ULMA solutions for the project: 
Project details:
Surface area: 120,000 m².
Max. height: 106 m.
José Cruz - Civil Engineer, CASAIS Group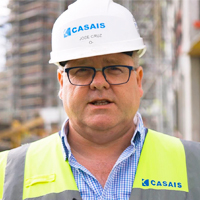 "The main challenge was to get a formwork system that would ensure that we were able to save a week. We managed this with ULMA, easily and safely".
If you want to discover more benefits that the customer has obtained with ULMA solutions, click here and listen to his opinions in this video.