ULMA takes part on the newly-opened Wanda Metropolitano Stadium in Madrid
The transformation of the old stadium La Peineta designed for 20,000 spectators into state-of-the-art facilities for 68,000 is a great technical and logistical challenge. The challenge was overcome thanks to careful planning and efficient material rotation.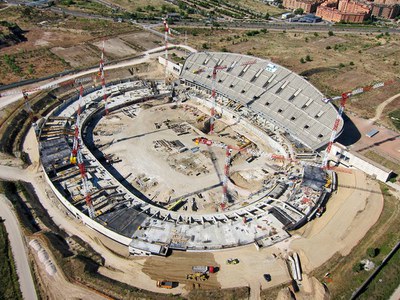 The Madrid City Stadium was first inaugurated in 1994. It was originally built with a single oval grandstand capable of seating 20,000 spectators. The stadium was redesigned into an elliptical shape with axes of 300 m and 255 m respectively, and is now capable of holding 68,000 fans. The roof stands 50 m above the pitch and covers more than 46.000 m2.
The stadium, property of Club Atlético de Madrid, was designed to include an auditorium, VIP boxes, and a variety of recreational areas, making it into a multi-purpose sports arena with specific spaces for the supporters.
This type of construction requires a detailed study to be made of the project. We provided extensive technical and logistical support, remaining in constant contact with the client to plan each of the constructive phases. 
In this area are available the details about the solution offered by ULMA in the construction project of the Wanda Metropolitan Stadium in Madrid.