ULMA Launches a New Digital Service Pack for Scaffolding
Scaffmax®, a powerful scaffolding configurator, joins ULMA Studio for Revit®, complete with a new library including BRIO Modular Scaffolding and DORPA Frame Scaffolding, as part of ULMA's digital toolkit available at a single click.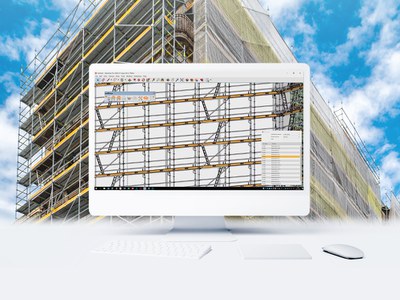 The purpose of these tools is to simplify your day-to-day work, increase productivity, and streamline project management from start to finish. We share our resources and make our entire BIM ecosystem readily available, to help you give shape to your ideas. 
The Revit® scaffolding systems and COMAIN Handset Panel Formwork, join the extant formwork systems in ULMA Studio:  ORMA Panel Formwork, LGW Lightweight Panel Formwork, LGR Lightweight Column Formwork, as well as MEGALITE and MEGAFORM, our imperial-unit formwork panel systems, along with the aluminium CC-4 and timber beam ENKOFLEX slab formwork systems. 
We offer a comprehensive service that allows you to download the ULMA Studio for Revit® add-in and fully design your projects using ULMA systems. Using BIM from the outset of the project, all stakeholders can work collaboratively on a single file that is updated continually. Productivity is drastically increased through time savings, the availability of comprehensive and detailed information, and improved planning throughout the entire project, regardless of where stakeholders are located. 
Scaffmax®, a SketchUp® add-in, is yet another tool that we make available to complement our digital toolkit for scaffolding. Scaffmax® makes it possible to select the most relevant criteria for the client and within seconds assemble BRIO and DORPA scaffolding for a 3D structure previously generated in SketchUp® Pro. The software not only makes it possible to generate material lists and plans with a single click, it also features smart insertion points to make manual adjustments. 
With only basic technical knowledge it is possible to quickly find the best possible and most profitable solution for your project from the outset, with detailed visualization of BRIO and DORPA scaffolding in a realistic 3D model.