ULMA is awarded the PEFC certificate in Spain in recognition of its commitment to the environment
By obtaining the PEFC (Programme for the Endorsement of Forest Certification Schemes) certification, ULMA Construction has taken another step forwards, securing its commitment to combining its business activity with social welfare in an environmentally-friendly way.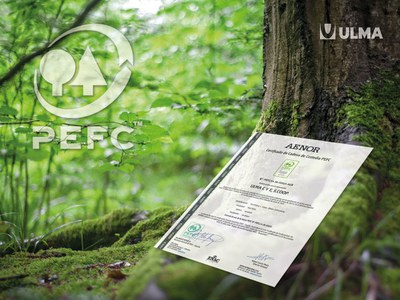 PEFC provides a suitable framework for applying common, internationally-agreed standards to forest management and to companies which transform the resulting products, establishing global sustainability requirements adapted to local conditions.
By joining this programme and receiving the PEFC certificate, ULMA therefore actively contributes to ensuring responsible management of the world's forests, "doing its bit" to protect biodiversity and ecosystems which are fundamental for preventing climate change and, in turn, guaranteeing the livelihood of many rural populations. The Chain of Custody certification involves compliance with requirements for tracing forestry products back to sustainable sources. The scope of the certification held by ULMA is applicable to the sale of VM-20 timber beams, three-layer plywood and to Birch plywood, using products from certified forests to manufacture them.
In the phase prior to its PEFC certification, ULMA established the following general guidelines for environmentally-friendly behaviour and these were, undoubtedly, key to its latest achievement: Contribution to the sustainable development of its business activity, providing the necessary resources for this. Progressive reduction, where possible, of waste produced through its business activity. Compliance with the applicable legal requirements and other requirements to which ULMA is bound. Fixing environmental goals and aims which allow for progress in terms of compliance with environmental policy, based on the principles of continuous environmental improvement and prevention of contamination. Encouragement of sustainable use of resources, including, amongst other commitments, the implementation and maintenance of Chain of Custody requirements in line with PEFC standards. Boosting workers' collaboration with environmentally-friendly action. Lastly, placing the basic environmental questions related to ULMA's business activity at the full disposition of any interested parties.
Responsible choices on ULMA's part facilitate access to global markets, as organisations and businesses around the world use PEFC as a point of reference for sustainable forestry management. In late 2017, there was a certified surface area covering over 313 million hectares in 35 countries and 19,800 businesses in 72 countries held the PEFC Chain of Custody certification. PEFC is the most-implemented forestry certification system in the world. Distribution of PEFC-certified surface area by continents is as follows: 54% in North America, 31% in Europe, 8% in Oceania, 5% in Asia and 2% in South America. Where the Chain of Custody is concerned, most awarded certificates are in Europe (83%), with the remainder located in Asia (10%), North America (4%), Oceania (2%) and South America and Africa (1%). 
Accreditation by means of the PEFC Chain of Custody certification ultimately represents recognition of the commitment and effort by everyone at ULMA to contributing to the sustainable development of its business activity, and to this having a reduced impact on the environment. It also serves to meet the demands of ULMA's clients, who are increasingly aware of the use of products certified with the PEFC Chain of Custody and of sustainable construction methods such as BREEAM (Building Research Establishment Environmental Assessment Methodology) or LEED (Leadership in Energy and Environmental Design) construction, amongst others.