Renovation of The Agora Building, Spain
Located in the City of Arts and Sciences in Valencia, The Agora is an almost completely translucent multiuse space full of natural light built in the shape of an ellipse with pointed ends. Measuring 100 m by 65 m and 68 m in height, the building also features slats forming a brise soleil that reaches 85 m in height.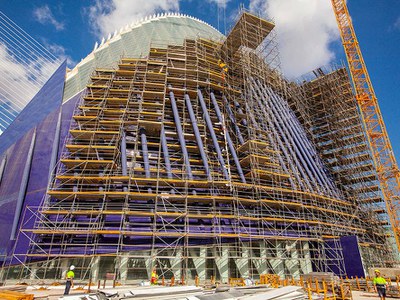 ULMA was the sole supplier for the scaffolding solutions on this project. The work consisted in covering the entire building with multidirectional BRIO scaffolding to refurbish more than 4,247 m2 of space, both exterior and interior. The elliptical shape of the building, featuring curved slopes with radii varying according to height, presented a challenge for the scaffolding design.
ULMA applied BIM technology to design the scaffolding for this project. Detailed 3D models informed management and enabled crucial decisions to be made effectively for the design, planning, execution, and use of the scaffolding structure throughout the project, as well as ensuring proper storage and care after project completion. 
BIM technology provides a complete synthesis of all information relevant to the project, allowing for comprehensive management strategies available to all parties involved. The result is efficiency and streamlined precision.
To know more about the project, click here or watch the video.