MK System: cost-effective, flexible and modular
The Tintenbar-Ewingsdale stretch of the Pacific highway is 17 km long. The project's main objectives are to improve road safety, achieve uninterrupted traffic flow and provide access to the highway from nearby towns.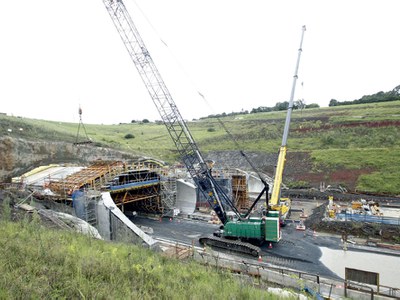 The 800 m long tunnel, with 19 m wide entrances at each end, was constructed to avoid gradients and to reduce environmental and acoustic contamination in the area.
ULMA have extensive proven expertise in carrying out this type of project in Australia: Legacy way, GUSBUS, Trackstar, among others, are examples of the possibilities provided by the MK form carrier for building tunnels of any radius, shape, and load-bearing capacity. The MK system has been reused in these projects, once again demonstrating its high performance, both under lease or purchased.
ULMA&UNI-SPAN professionals worked elbow to elbow with the customer on developing and designing the structure, as well as on site.
The supplied formwork exceeded 200 tonnes:
On this occasion, the side wall and vault were produced separately. This meant the side walls were built more quickly and allowed the MK carriage structure to be lightened, with the corresponding costs savings.