Formwork, shoring and scaffolding solutions for the Vicuña Mackenna 20 building in Chile
The Vicuña Mackenna 20 project is a large-scale initiative promoted by the University of Chile which consists of a building located next to Plaza Italia and which will house in the future the Faculty of Government, the Institute of International Studies and the Centre for Artistic and Cultural Extension.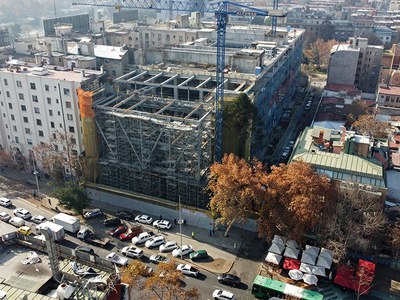 A space where, among other disciplines, the National Symphony Orchestra, with its more than 80 years of history, the Chilean National Ballet and the Symphonic Choir will live, sharing space with other academic units and university organisations.
The Vicuña Mackenna 20 building will have more than 32,000 m², eight floors and five underground levels, as well as more than 1,500 metres of interior courtyards, concert halls, a dance hall and rehearsal rooms for the Chilean Symphony Orchestra.
For the execution of the walls and pillars, robust vertical formwork systems capable of withstanding high concrete pouring pressures were chosen, such as the panel formwork ORMA, which stands out for its great performance on site, together with the lightweight panel formwork NEVI, which was the most suitable solution for resolving the most complex geometries of this building project. For the execution of slabs, the system chosen was the metal beam formwork BTM, a simple, practical and efficient system that can be easily adapted to any layout with just a few components.
Given the great versatility it offers to adapt and allow multiple configurations, the shoring system BRIO, the shoring towers formed by joining ALUPROP aluminium props with bracing frames and the T-60 frame shoring towers were the selected systems for shoring heights of up to 2 m and five-storey slabs, even reaching heights of up to 30 m.
The entire construction process is being carried out in accordance with very demanding safety criteria, using different systems such as safety handrail systems and safety nets. This long-awaited project will have a very favourable impact on the cultural and social life of the country, as well as contributing to economic reactivation and having an impact on the plan for the recovery of public spaces in the central area of the capital.