Arch bridge over Stradomka River
In order to build this bridge, it's been employed shoring systems of different heights, thus achieving high levels of efficiency throughout the entire construction process.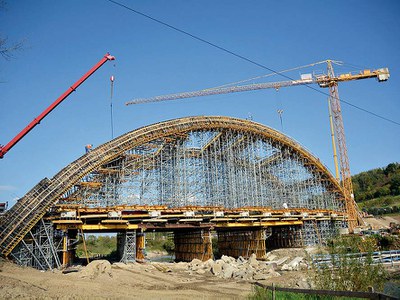 In the city of Stradomka, an area habitually suffering heavy inundations, a new bridge was built to span the neighboring river of the same name.  
The structure chosen was an arch bridge of reinforced concrete with a single span. It measures 13.2 m wide and 82 m in length, and was designed with two arched beams running longitudinally over the deck, which is suspended from the beams by steel cables.