Productivity through the development and implementation of BIM Methodology
BIM Methodology responds to the need for a cultural and relational shift in the construction industry, which implies the integration of all participating parties in a single planning process for each project, from start to finish.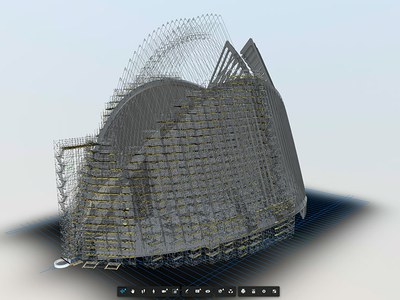 BIM consists of the creation and organised management of all information pertinent to a building or infrastructure project throughout its entire lifecycle. All parties who participate in the project can access the associated information and consult or update it in real time, given that the data in the 3D model is organised collaboratively.
Each project has a BIM Execution Plan, which includes a general description, along with a definition of roles and responsibilities that permit much more closely tailored planning, management, and follow-up with the client. It also features tracking for proposed and accepted changes from either party, maximal resource efficiency, managing time much more effectively and resulting in notable onsite productivity increases. Perfectly compatible with Lean Manufacturing practices, which provide benefits such as creating the maximum value with the least possible resources and the identification of successful processes so that they can be standardised and automated, thus reducing times and cost, and in general promoting continual improvement and efficiency in productive work.
ULMA is increasing its development and implementation of the BIM Methodology, extending its reach to an evermore diverse range of projects in an increasing number countries. It is true that the speed of implementation is dictated by market demand, and that at its introduction the methodology has been used primarily in specific countries for the development of complex projects with demanding technical and logistical requirements, where clear communication, coordination, and teamwork between all parties has proven to be crucial.
Examples of such projects are the restoration of the Ágora building in Ciutat de les Arts i les Ciències complex in Valencia, Spain; the Prado Commercial Centre in the Velodrome Stadium in Marseille, France; the Caleido building in Madrid, Spain; the Skyliner Tower in Warsaw, Poland; and the Lola Tower in Mexico. In all of these projects, BIM Methodology has facilitated the interaction between all collaborators, allowing them to share information transparently, organise all processes into a single streamlined flow, and establish lasting relationships between clients and collaborators based on trust and closeness.
Congruent with our constant focus on customer needs, ULMA has developed multiple tools and specialized automatic functions in order to facilitate professionals' work with BIM that will include a free downloadable library of our scaffolding and formwork systems, which can be integrated into design models made with Revit® software. These utilities will be included in the Customer Service area of ULMA's website, where they will be updated with new product additions as they become available.