New SBU Safety Platform designed to work with wall formwork
ULMA Construction designed the new SBU Safety Platform to provide an optimally efficient, versatile and safe building solution, allowing our customers to work with wall formwork at any height in complete and guaranteed safety.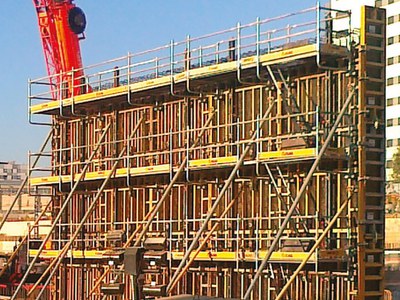 The SBU Safety Working Platform is composed of BRIO Multidirectional Scaffolding components, thereby offering synergy and resource optimisation through mutually compatible systems. All components are certified under the European Standards EN 12810-1/2 and EN 12811-1/2/3, which provide for safe working spaces and structures.
The modularity of BRIO Scaffolding components allows the SBU galvanised metal platform to adapt seamlessly to diverse geometries, and with the corner platform offer full coverage even at 90° corners.
In line with our policy of creating customer-focused solutions, the R + D Team at ULMA Construction designed the new SBU Platform to maximise performance and profit. The platforms feature an extensible corbel that allows for efficient stacking, resulting in significant space savings during transport. SBU Platforms can also be pre-assembled on the ground for posterior lifting – along with formwork panel assemblies and push-pull props – thus allowing assembly to be performed beforehand in the warehouse. The result is significantly reduced worksite assembly times.
The new SBU Platform was developed as the result of our deeply-rooted and pervasive commitment, shared by all departments in ULMA Construction, to strengthen our Safety Policy by offering systems and components that guarantee total worker safety throughout the assembly and construction process.