New Offices for Publishing House Axel Springer SE
The 50th anniversary of the emblematic Axel Springer skyscraper in Berlin is the milestone motivating the construction of new offices for the company, planned to accommodate 3,500 workers and be fully completed in 2020.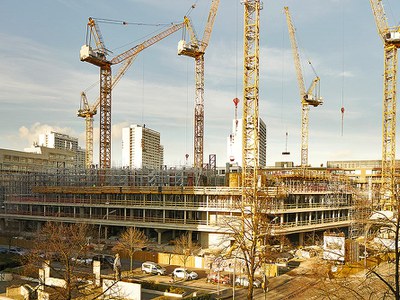 Designed by OMA, the architectural firm headed by the iconic Rem Koolhaas, the structure notably features an atrium 30 metres tall, with a façade composed of 3D elements that run diagonally through the centre of the building.
Closeness: key in the construction process
The architectural complexity of the structure required an intelligent and comprehensive formwork and scaffolding solution, complete with full-scale technical and logistical support from start to finish. ULMA provided the global solution necessary for the building structure.
An important factor in the success of this project was the close relationship and continual communication between ULMA and our clients. This allowed us to streamline a complex set of varied operations, preventing bottlenecks and delays that would have hindered the construction process.