High performance and safety at the Wesley Tower, Mississauga, Canada
Wesley Tower, is a vital part of the Daniels-City Center iconic 93.000 m2 multi-award winning master-planned community. Located at Confederation Parkway and City Centre Drive, this new residential tower will be nestled within a destination neighbourhood conveniently located in the heart of the Mississauga City Centre, Ontario.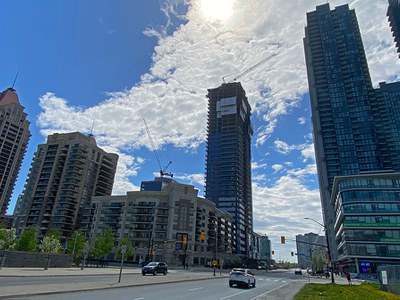 This project consists of two towers, a 43 story and 20 story with 3 levels of shared underground parking, with stunning views, sophisticated features and amenities.
ULMA is working closely with our customer to offer comprehensive formwork and scaffolding solutions for the construction of this modern complex that will offer high-end apartments, offices, and commercial spaces, distributed through both towers, including subterranean levels.
The building, which is currently under construction growing towards heights of 43 and 20 storeys in height, requires standard safety measures that ULMA has provided. 1800 m2 HWS Perimeter Safety Screens which, offer a versatile solution capable of adapting to any building geometry, in this case for 3 floors protection. In addition, ULMA has supplied 3700 m2 of CC-4 Aluminum Panel Formwork for the parking levels and 1.000 m2 of ORMA Panel Formwork for cores and columns.  
Benefits with the HWS system:
HWS system was used to form the lifting unit needed for slab pouring.
High upper verticals to cover the live floor, protects workers from high winds and associated hazards.  
Quick and efficient lifting cycle by small crew workers. 
The hydraulic lifting system is self - sustaining which allows the crane to continue working on other areas of the building while the lifting or lowering of panels is taking place.