Formwork and Scaffolding ULMA for the largest Water Treatment Plant in all of Central Europe
The new water treatment plant in Prague is the biggest project in the Czech Republic currently underway, and when completed will be the largest facility of its kind in all of Central Europe.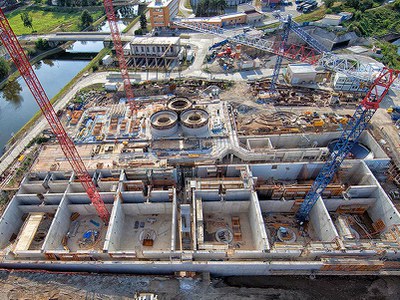 The project is divided into two parts, which will occupy a total of 400,000m2 and require 500,000 m3 of concrete: a complete overhaul of the existing treatment plant on the island of Císařský Ostrov, as well as the addition of independent treatment facilities – dubbed the "New Water Line" – which will incorporate mechanical and biological processing with an additional chemical treatment system. The new technology introduced will bring the facilities in line with the European Council emissions guidelines for "sensitive areas". Once improvements are completed, the plant will utilise the updated infrastructure to conduct 40% of all water treatment, while the new line will be responsible for the remaining 60%. The testing and troubleshooting process is expected to last a year before full operations can begin.
To know more about the project click here or watch the video.