Be faster with less labour costs, now possible with BATEK
The breakthrough in one-sided tying formwork systems. BATEK is a high-performance-assembly formwork for all types of vertical concrete structures aimed at both the building construction and civil engineering sectors. It is designed to effectively and safely solve all types of geometries, providing excellent concrete finishes every time.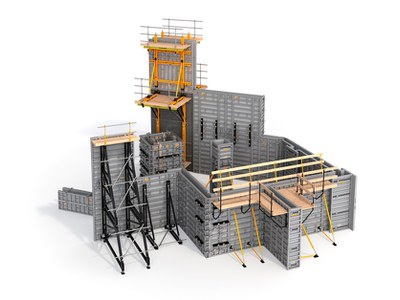 Speed up wall and column forming and reduce costs with BATEK:
Time saving: boost productivity and increase labour savings
Forming and stripping times can be reduced by up to 50% due to the one-sided tying operation. Quick assembly of all symmetric panels without any possibility of error. Less tying points required and fast setting and installation with no need for internal spacer tubes and cones. All this makes this system a leader when it comes to forming speed.
Lower costs: low maintenance and long lifespan
Up to 40% less tying points and faster assembly/dismantling processes compared to traditional systems, thus achieving lower labour costs. Long lifespan system with high-strength galvanised steel panels with no sealing components and a compact tying system with no loose or removable elements. Non-stop working panels.
Ready, set, go!
Easy and fast 3-step process for setting the BATEK tie wall thickness (Unlock-Set-Lock) and quick fixing of the BATEK nuts to the panel, without any tools needed for either operation. Quick BATEK tie assembly to the panel using just one tool.
Flexible system to suit all needs
The system provides two solutions for one-sided tying, one using ULMA's innovative conical BATEK tie and the other using standard market tie rods (DW15 and DW20), both mounted using the same BATEK nut. BATEK panels also allow conventional two sided tying.
Discover these and other advantages of BATEK modular formwork in this video.