Fast progress with CVS formwork carriages
The El Aserradero viaduct, in Colombia, is one of the most complicated structures on the 13.1 kilometre stretch of the "Segunda Calzada Primavera - Camilo C".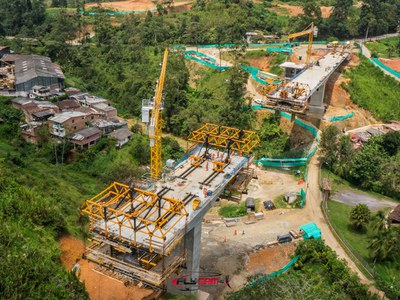 This road is one of the first works in the "Autopistas para la Prosperidad" project that will create a faster exit from the south-west towards the Pacific Coast of Colombia. The infrastructure will benefit nearly 260,000 people whose journey times will be reduced while the region's economic development will be boosted.
ULMA has supplied four 10.3 m wide formwork carriages designed for a maxim load of 200 tonnes. The system's high performance reduced construction time.