Building Modernity in India
ULMA's presence in the Asian market is a reality for years. The opening of the subsidiary in India in 2010 was a further step towards offering a comprehensive service and a close relationship with the customer in that region. ULMA positions itself in the Asian market with high-rise building projects. The Prestige Trade Tower in Bangalore and the World One King Tower in Mumbai are examples of projects currently undertaken by ULMA in this country.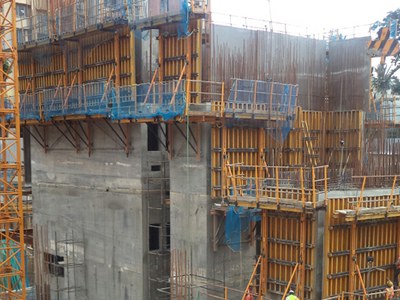 Prestige Trade Tower

: Perfect Combination of Climbing Systems
Located in the financial centre of Bangalore, this 115 m high building has 24 floors of 30,000 m2 each and 2 basements, in addition to a heliport. With its sober and elegant architecture, the Prestige Trade Tower also offers all qualities of an efficient and functional building.
ULMA designed a solution for the central shaft with two climbing systems based on the meccano concept of one of its flagship products: the MK System. A combination of BMK Climbing System and KSP Shaft Platforms, for the inside shafts, made it possible to pour in weekly cycles. This solution enabled the building of vertical concrete structures independently from the slabs.
The height of the Mezzanine floor ranges from 4.20 to 5.50 m.
World One King Tower
With its 447 m height, it is going to be the second tallest residential building in the world. ULMA has designed a solution for the slabs of the 117 floors of the skyscraper with two easy-to-use formwork systems: CC-4 and ENKOFLEX.
1,100 m2 of 25 cm thick slab out of the 1,600 m2 typical floor area were built with the aluminum formwork CC-4. ENKOFLEX has been the ideal choice for the perimeter; since it consists of single beams perfectly adaptable to the curved shape of the building. This perimeter is 190 linear meters long, 0.90 m high and 2.50 m wide. Special stop-ends had to be used. Both systems are shored with European Props EP.
The slab area changes at the floors 40 and 80, according to the geometry of the building.