BIRAMAX: Innovation in Circular Formwork
BIRAMAX represents the latest innovation in circular formwork, designed with all the hallmarks of a new ULMA product: ease of use, flexibility, and complete system modularity.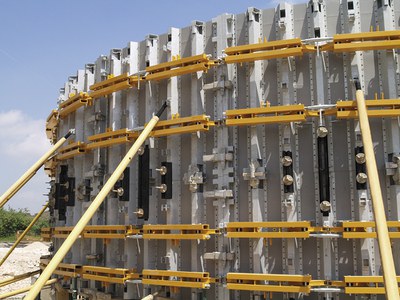 The line was developed in an effort to create adjustable formwork at once easier to assemble and more profitable for the client, in terms of both use and durability. The result is a safe and effective product ideal for the construction of curved walls with varied radii. 
Panels are shaped to the desired curvature using only 4 adjustment points. The simplicity of use benefits both the customer and the operator.

The plastic surface of the formwork panels is highly moisture resistant and easy to maintain and/or repair, resulting in a high-quality finish.

The panel frame is made of extremely durable, high-quality, and resistant galvanised steel.

A wide range of panel dimensions is available, varied in both height and width. It is possible to pour up to 6.75 m

2

with a single panel.

Assemblies withstand pouring pressures up to 80 kN/m

2

.

Ideal for quick and completely safe assembly and pouring cycles. An efficient solution that offers time savings and safe working conditions.

Compatible with ORMA Wall Formwork. The objective is to provide the customer with world-class performance for every project. 
With this new product ULMA bolsters its range of circular formwork, complementing the capabilities of ENKOFORM VMK and ENKOFORM V-100 to shape any circular wall, whether it be of varied or fixed radius, for water tanks, storage areas, tunnels, or any other application.