BATEK, the new one sided tying formwork system for walls
ULMA is launching BATEK, the one sided tying formwork system for walls. Reduction of labour and assembly time are the defining features of this highly efficient panel formwork system.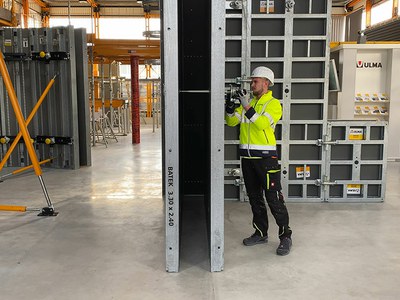 The panels have been designed to provide three possible tying solutions. The most notable is the one sided tying option, given that it can be assembled by a single operator, thus reducing time and resources necessary for assembly. The system is versatile and adjusts easily to varied geometries, in addition to providing an excellent finish. The system's cost-effectiveness and safety are guaranteed.  
The wide range of panels available makes it possible to adapt to a greater spectrum of project requirements, as well as preventing possible assembly errors, given that the panels are symmetrical on both axes.
The panels can withstand high concrete pressure, up to 80 kN/m², and a single panel can cover up to 7.92m².
The easy maintenance and high durability of the galvanised panels and tying systems make BATEK a robust system with a long working life.
The PLUS board with plastic coated shuttering face and symmetrical spacing between the tying holes guarantees a highly quality finish.
With this innovative system, ULMA widens its range of formwork systems for walls to provide more comprehensive solutions for both residential and civil works.