Catalogues and technical documentation
ULMA Construction Book, product catalogues and product item lists.
Construction Book
Everything about our products, projects, services, and the company itself.
View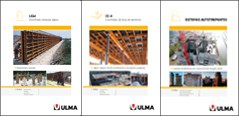 Download our product catalogues quickly and simply.
Check out the certificates and official approvals that assure the quality standards of our formwork and scaffolding systems.