Cyril E. King Airport Parking Garage: construction solutions in a paradisiacal site
ULMA provided formwork and shoring solutions for a three-level parking garage consisting of 417 parking spaces, located in St. Thomas Virgin lslands.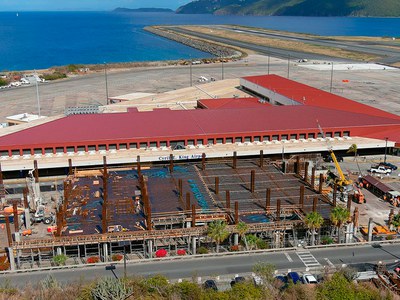 The parking garage has amenities such as charging stations for electric cars and by moving the rental car agencies to this facility, space is freed up in the terminal area for other vendors and kiosks. This will make the experience easier for the traveler by providing a dedicated area for ground transportation and rental car stations.
Total square footage for phases one and two is nearly 213,000. Project is expected to be completed by the Summer of 2023.
For the parking deck, the contractor selected ULMA's Garage Beam System which is ideal for forming cast-in-place garage beams and slabs for parking structures using popular United States construction methods with imperial measurements. This system is designed specifically for post-tension beams and slab multi-story parking structures, simplifying and reducing concrete construction costs. The contractor was able to set and deck 4,000 square feet a day with an 8-man crew. Stripping 6,500 in 2 days with an 8-man crew.
For the elevator core ULMA's KSP Shaft Platform System was the ideal system to be used. A simple solution for supporting shaft internal formwork or walkway support. Perfect for elevator and staircase shafts, building cores, hollow piers, etc. 
For the parking garage ramps ULMA's ENKOFLEX beam and slab formwork system to handle the different floor slopes and the system was also used in irregular-shaped areas due to its great versatility. 
Learn more about the project in this video with testimonials from our clients.