We Have a New Look!
We have just published the Construction Book, which highlights some of our most noteworthy projects of the last few years. We have updated our image, our slogan, and our graphic design, though our essence is still the same: you, our customer, remain the protagonist.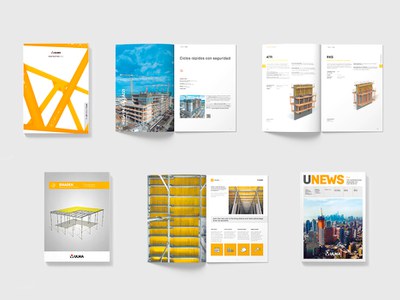 It's about how you see us, but more than that it's about the ways in which you want to work with the people of ULMA. The close relationship that we share, based on solid trust built over time, that is what allows us to work together on your projects. Your trust is our strength, and that is what we want to talk about today.  
At ULMA we continue evolving to be more competitive, to be closer to you, and to continue building your trust. We adapt our image and our message while maintaining our nature and our origins.
We want to continue improving, through the development of more efficient and sustainable systems, digitalizing and streamlining processes to improve productivity, thereby allowing us to offer better services, products, and solutions. It is this drive for innovation and growth that we wish to reflect in our image and brand.
We have defined an idea that reflects our purpose as a company, and also defines in a clear and determined way who we are and what we offer: It's all about trust, the value of trust.
You can be confident that we will help you to make your projects a reality. That is our goal every day. And we do it from close by, providing you with an effective and quick response – providing you with all the products and services you need – anywhere in the world. Based on our experience, knowledge, and constant innovation, you can trust that your project is in good hands.
Our team understands the value of trust and flexibility as the keys to success. We're prepared to give you personalized guidance whenever you need it and remain at your side from start to finish, from the design of formwork, shoring, and climbing, to the timely supply of the material, all the way through to the logistics and supervision on site. We do all this with a deep knowledge of the product and the markets in which you operate, allowing us to adapt to all your requirements and find – together – the best solution.
In short, full commitment to meeting your needs every step of the way: that is what builds trust.