Efficiency with ULMA's system in downtown Tallahassee, Florida
4Forty North is one of downtown Tallahassee's largest redevelopment projects. This mixed-use development project spans an entire city block.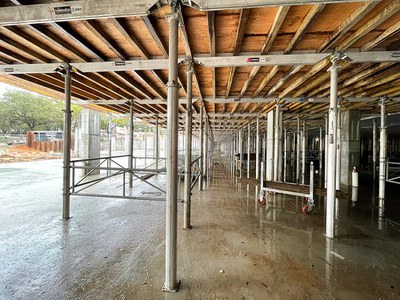 It is estimated to bring an economic impact of approximately $90 million to the local economy. The property has a total of 7 floors and the entire complex contains 365,000 square feet. Included are 224 residential units, 15,000 square feet of retail space and a parking garage. The facility will have a total of 7 floors with 3 levels of parking at the center of the complex. Amenities include a pool on the third level. Of the seven stories four levels are concrete and the remaining three are wood-frames. The project is expected to be completed by the end of 2023.
ULMA provided an efficient solution for forming the walls and columns by using the MEGAFORM system for elements greater than right feet in height and MEGALITE for the walls that were under eight feet in height.
For placing the floors, ULMA's FORMADECK was used with the ENKOFLEX system employed to form the beam areas. The top and bottom decks were sloped to facilitate draining. The ALUPROP posts with dropheads stayed in placed while the decking elements were moved to a higher floor, ready for the next pour. This reduces labor time in moving fewer pieces of equipment. In addition this system comes with specialized carts and racks that facilitate the moving the systems around the jobsite thereby making workflow fast and consistent. This system is ideal for use on flat decks of varying depth.
The goal was to strip, set and deck 4,500 to 5,000 square feet a day with a 10 man crew and the contractor was able to set and deck 9,400 square feet in one day thereby demonstrating this system's efficiency.
For more details take a look at this video.