25 years building together - the way to success
We are celebrating our 25 year Anniversary being part of the America's concrete construction industry.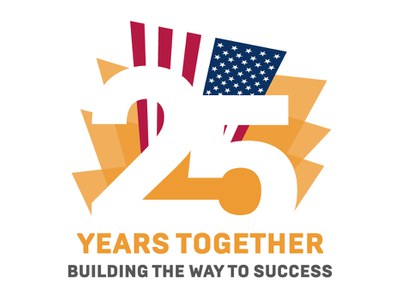 ULMA Form Works Inc. is a leading manufacturer and supplier of highly-efficient concrete formwork, climbing and shoring solutions that is part of the international ULMA Group, which operates in more than 50 markets. ULMA has more than 60 years of experience in the industry worldwide, and in this calendar year is celebrating the 25th anniversary of its operations in the USA.
ULMA started USA operations in 1998 by opening a Formworks branch in Northeast in 1998. Currently, the company's USA branch has 3 offices across the Eastern United States, 6 logistics centers and several dealers all over the USA, providing complete project support and a wide range of forming and shoring equipment ready to ship, wherever the projects are located. The offices are in New Jersey (where the company's headquarters is also located), Georgia and Florida.
After all these years, the company's mission still remains the same - to work closely with the client, building trust and good communication at every stage of the project, applying and fine-tunning the most efficient solutions for each project, from first design to the successful completion; it's all about trust.
Creating simple solutions for complex projects is our daily challenge. Our extensive experience means that we know how important it is to provide the most optimal solutions tailored to individual customer requirements and needs with our equipment and services. To this end, we use the latest technologies and carry out a continuous program of research and development, thanks to which we offer equipment and services that meet high standards of innovation, reliability and safety.
Over the course of 25 years, ULMA has established cooperation with many clients, participating in projects in various sectors of the construction industry. Experience, commitment and hard work are the basis for building lasting relationships with contractors and creating the image of ULMA as a reliable and trusted partner - especially important in the construction industry. It is thanks to its customers that the company has the opportunity to develop and face more and more challenges.
Our company's development would not be possible without the commitment of its employees. During the last quarter of a century, the USA branch team has grown from 20 people to more than 200 today.
We are building a competent and dedicated team, betting on ambitious and talented people who seek personal and professional development. A team that will work for the shared success of the company and its customers. The way the company works and operates is transparent and based on clear principles - both to its customers and to each other, which allows for faster problem solving, the formation of mutual trust, more effective teamwork and, consequently, greater productivity.
ULMA's success is primarily due to people, so the 25th anniversary of the company's operations in the USA is, on the one hand, a reason to be proud, but also an ideal opportunity to give thanks to all the people who work for our company. We would like to thank our employees, dealers and clients for their trust, commitment and many years of effective cooperation so far, and invite them to continue for future projects - working for mutual success as one team.
Check out the video we have made to celebrate these 25 years close to you.
We will continue to form a concrete future together…